Online retail - Great Threat or Great Opportunity
Can the 1990's fixed location retail model survive?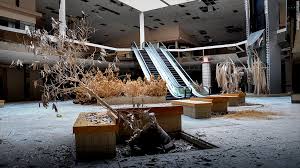 In the 1980's and 1990's we saw the corner store killed off by the big shopping malls. We may be seeing online retailers doing the same to shopping malls.
Across the USA more than 2 dozen malls have closed down over the last 4 years and Retail consultant Howard Davidowitz predicts that up to 50% of malls will close in the next 15 to 20 years. This is bad news if your bricks and mortar shopfront is your sole source of income. Its even worse news for the location-centric franchise operations who depend on new malls opening to sell new franchises.
In the 1980's shoppers traded the convenience of the corner store for the greater range of products offered in one place at a shopping centre (mall). In Australia today almost all of our shopping centres are filled with the same franchise stores offering the same products and shoppers are moving online where they can find a much greater range of products, often at a lower price and they are prepared to accept the inconvenience of having to wait a couple of days to get their purchases.
The shock to Australian retailers may be much worse than for those in the USA. Retailers in the USA have been moving online for the last 15 years and it is rare today to find any US retailer that is not also selling online. In Australia, where the retail industry has been dominated by a few large players, a seeming concerted decade long campaign by Myer, David Jones and Harvey Norman to convince shoppers and retailers alike that online retail would never catch on here has resulted in slow adoption of online strategies by traditional bricks and mortar retailers who are now finding that their customers are shopping with international retailers who are offering more choices online. Australian retailers (with a few exceptions) are going to have to leap from their existing 1990s location centric business model to a 2015 online model in a single step.
Grasping the Online Retail Opportunity
On the other hand those retailers are in a position now to take advantages of the lessons learned, sometimes at great cost, by the early adopters. Modern shopping cart websites are far more sophisticated, easier to use and generally considerably cheaper than they were ten years ago. Greater shipping and payment options are available and marketing tools for driving traffic are much more effective.
Careful selection of the right shopping cart platform allows a retailer to start small, at very low cost and then scale up their online retail presence. Having worked with a number of shopping cart softwares over the years we now recommend Hikashop for most applications because of its flexibility and scalability. We have clients with single product sites and other clients with in excess of 10,000 products on Hikashop shopping cart sites.
Whether you want to get out of the traditional retail model, or want to insure your earnings by diversifying your income sources, online retail is no longer an option, it is the only proven way forward for retailers.