Click And Collect Websites
Click and Collect is one of the fastest growing retail trends in Australia, with a massive 75% growth in the number of stores with click and collect websites between 2015 and 2017.
Why Offer Click and Collect?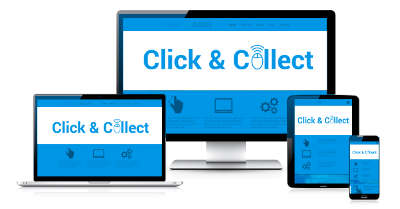 Customers love it. Customers love click and collect because it offers them the immediate gratification of traditional shopping, combined with the convenience of browsing and selecting their shopping online.
Lets face it, by international standards, shipping within Australia is expensive and slow. I recently purchased an item online from a large Australian online retailer. It took an unapologetic Australia Post 9 days to get the small parcel from Melbourne to the Gold Coast. In the same week my daughter purchased some items from a USA based online store and the parcel arrived at the same Gold Coast address in 7 days including 2 days held up by customs!
Customers often find it more convenient to shop online and then pick up the purchases in store the same day. Retailers like Super Cheap Auto are offering Click and Collect with pickup available 90 minutes from placing the order. Click and Collect also allows customers to check the quality of the purchase in store and change the order if it doesn't meet their expectations.
Stop Competing On Price Alone
When a retailer offers Click and Collect they are no longer simply competing online with the competitors' prices. They are also offering a convenience and service that offshore websites and purely online retailers can't offer, which means the business is no longer as price sensitive.
Click and Collect helps retailers reduce their operational costs as well as giving them the opportunity to leverage impulse purchases when the customer comes into the store.
The International Council of Shopping Centres found that 61% of Click and Collect customers make an additional purchase when they are collecting the online order.
Offering Click and Collect brings more customers through your doors and increases the number of sales compared to traditional online shopping.
Email Marketing & Click and Collect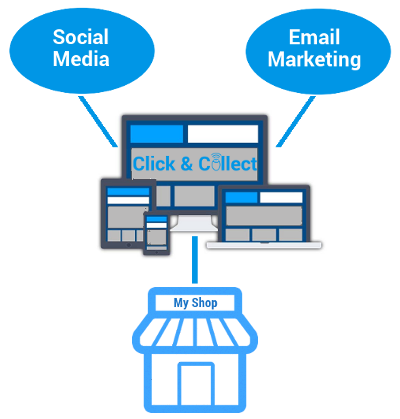 Email Marketing and Click and Collect make the perfect marriage. Online sales make it easy to collect emails for your mailing list. Regular emailed offers and information keep customers coming back to your website while Click and Collect keeps online customers coming back to your store
Up The Amazon Without A Paddle?
Brick and Mortar Retailers have to find a point of difference to combat the threat that Amazon poses. Amazon sets an amazingly high standard that traditional online retailers will be hard pressed to compete with. They are the undisputed leaders in online retail logistics, coming into an online market that already lags behind the rest of the world. The one thing they don't have though, is a store front in the local shopping centre.
Australian retailers are paying among the highest rents in the world and few will survive without the additional income stream provided by online sales. Traditional online sales are going to be harder to generate with the competition from Amazon. Click and Collect Websites offer the lifeline that Australian Retailers are so desperately in need of.
If you want more information on offering a Click and Collect service to your customers email us or call Rod on
0414 909 759